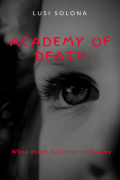 Being admitted to the Academy of Haut drags Dylanesa Dawson to hell. Despite its magnificence, the academy holds the secrets behind it. Whoever attempts to discover them will face demise. The bloody tragedies haunt Dylanesa down. The missing intelligentsia and academics, the parishes of her classmates, and the chips on her nape are some of the many nightmares she encounters. However, true jeopardy awaits her ahead. And what if it is her, the target? Will her curiosity bring her to dive deeper into the Academy of Haut and reveal what's inside it? Will she make it to uncover the mysteries or will death claim her, instead?
Only those who read the story sequentially till the end will find the answers.
P
You need 1 point to view each paid chapter.
Chapters
Date
Ch. 30Summer Camp

p

May 30, 2022
Ch. 29The Chastisement

p

May 30, 2022
Ch. 28Yura's Missing

p

May 30, 2022
Ch. 27The Assault

p

May 30, 2022
Ch. 26Sneaking Out of the Dorm

p

May 30, 2022
Ch. 25The Selection

p

May 30, 2022
Ch. 24The Painting Exhibition

p

May 30, 2022
Ch. 23The Meeting

p

May 30, 2022
Ch. 22The Suspicious Head of Academy

p

May 30, 2022
Ch. 21Nightmare

p

May 30, 2022
Ch. 20The Inspection

p

May 30, 2022
Ch. 19Suicide

p

May 30, 2022
Ch. 18The girl in the Hoodie

p

May 30, 2022
Ch. 17Hospitalized

p

May 30, 2022
Ch. 16The Exit Ban

p

May 30, 2022
Ch. 15The Unwanted Men

p

May 30, 2022
Ch. 14The Rumor

p

May 30, 2022
Ch. 13The Old Abandoned Building

p

May 30, 2022
Ch. 12Photography Class

p

May 30, 2022
Ch. 11Investigation

p

May 30, 2022
Ch. 10Perish

p

May 30, 2022
Ch. 9The Incident

p

May 30, 2022
Ch. 8The Social Event

p

May 30, 2022
Ch. 7The Chemistry Class

p

May 30, 2022
Ch. 6A Chip

p

May 30, 2022
Ch. 5Kidnapped

p

May 30, 2022
Ch. 4The Welcoming Lunch
May 30, 2022
Ch. 3The Assembly
May 30, 2022
Ch. 2Academy of Haut
May 30, 2022
Ch. 1The Dorm
Mar 30, 2022