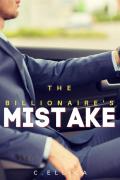 The Billionaire's Mistake
Product Description
TAGLISH- COMPLETED
It was never supposed to be painful and depressing. A stupid mistake she knows that. After all, Jude Murray was her boss, and falling in love with him wasn't in her job description. But can they blame her? A little moth-like her couldn't stay away from fire even if it burns.
And so their journey begins. Mary Jane Austen, the assistant secretary of the cold billionaire. One mistake, she left him for good. However, two years later they met again.
"... You, you hurt me Jude. You made me look so small with all that whore you fuck inside your office while I was just a foot away from your door...you! You are a heartless asshole who didn't even realized that I was hurting inside and that I was crying every time a woman went inside." Saad niyang nagpapahid na ng luha. "... How could you?" Sigaw niyang dagdag habang ang luha ay nag uunahang pumatak, na para bagang ilog na dumadaloy na lamang ng walang katapusan.
Product Details

Publisher: Mybard
Publication Date: December 21, 2021
ISBN: 978-1-68302-013-4
Language: English

This book contains adult content. Reader discretion is advised.


Customer Reviews