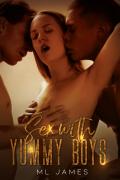 Product Description
Have you ever had a passionate and mind-blowing threesome before?
If not, you're in luck! If you have, then relive that wonderful experience with Jenna, Alessa, Amanda and others as they have sweet and mind-numbing fun with hot, muscular studs whose only aim is to please their lady and make her cum again and again.
Product Details

Publisher: Mybard
Publication Date: September 29, 2022
Language: English

This book contains adult content. Reader discretion is advised.


Customer Reviews