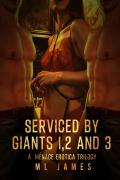 Serviced by Giants 1, 2, and 3
Product Description
Two naked giant studs, two horny women, four holes, two heavy rockrock hard cocks and one object: deep relentless hard sex!
✓ Walking in on her friend getting serviced by two big strong men, Lydia can't help but watch and hope to share in the hot action!
✓ When two sweating, naked, huge muscled studs are marching towards you in obedience to your freshly fucked friend's order to take care of you, what do you do??
✓ Just when Lydia thinks she has come to the end of her rollercoaster of sexual adventure, she finds that there's still more hot fun ahead!
Product Details

Publisher: Mybard
Publication Date: May 22, 2022
Language: English

This book contains adult content. Reader discretion is advised.


Customer Reviews