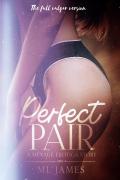 Perfect Pair (a cougar erotica - the full vulgar version)
Product Description
Amanda is a single middle aged woman who has just one achievement to gain before she turns fifty: to have sex with two young men at the same time!
When Amanda placed the ad seeking for two "strong young men" to do "manual labor" around the house, she had no idea what to expect. And neither did Jake and his brother when they finally came across the ad. But at the very first meeting, Amanda knew she had found the perfect pair of men for her first DP experience.
** This is the full version of this story, containing the vulgar part at the end.**
Product Details

Publisher: Mybard
Publication Date: May 23, 2022
Language: English

This book contains adult content. Reader discretion is advised.


Customer Reviews