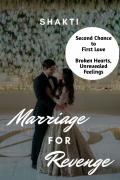 Product Description
A story that revolves around two people who are opposite in thoughts, ideals, ideologies and behavior, but still a knot tied for revenge bound them together forever.
Khushi is a doctor. She is jovial and sweet. In her family, she is treated as a princess and everyone loves her a lot. Khushi fights against injustice and stands for justice. She doesn't fear for anything or anyone. She creates her happiness, never letting the life happen to her. She is an inspiration to everyone around her and no one can hate her.
Rakshak is an orphan who doesn't know what is love and affection. His ego is his everything. He never let anyone to come on his way. If anyone comes on his way, they are crushed under his feet without mercy. He has no rules and his rules should be followed by everyone. Money made him more cruel and stubborn.
Rakshak loved Khushi truly in the past. But she refused him by insulting his attitude and behaviour. He left everything and went away from her.
After a few years, Rakshak is back as a rough, ruthless, merciless, and tough person. Khushi unknowingly crossed his way again making him remember her insult. Now he is not ready to leave her. He married her forcefully by threatening her.
He started his game of revenge torturing her every minute with his words and acts. Is it possible for Khushi to win his love or will she leaves him for his stupidity? Can she change him into a human or succumbs to his cruelty? Let's see the journey of Khushi and Rakshak..
Though they belongs to two different worlds, destiny brought them closer. The story is all about Khushi accepting Rakshak as her husband and changing Rakshak from a tough person to the one who is loving and kind with her true love. Let's begin the journey.
Product Details

Publisher: Mybard
Publication Date: September 20, 2022
ISBN: 978-1-68302-060-8
Language: English


Customer Reviews