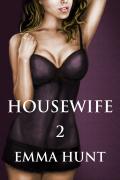 Product Description
Sleeping with her husband's best friend, a man that she's craved since college is one thing. Nothing more than a fling, even if her husband endorsed it, didn't make it right. Fucking a coworker is another. She would have to see him every day and he would know all of her secrets. He would know that she isn't the perfect wife. He would know all her cravings for cock and her slutty desires.
Ashley tried to control herself, but it's easier said than done for this young wife. A night on the town turns into a wild after party back at their house. Will she give into her desires again? If that isn't enough, her husband wants her to sleep with other men, to let them cum in her and to let him see the results.
Ashley isn't sure where this is all going. She's worried that it might end with divorce papers, however the slut that she tried to tame is back.
Product Details

Publisher: Mybard
Publication Date: March 18, 2016
Language: English

This book contains adult content. Reader discretion is advised.


Customer Reviews