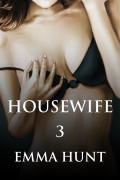 Product Description
Ashley couldn't control her sexual urges, luckily her husband was willing to experiment with her. However Ashley wants to do more than just experiment. This horny wife wants more than just a foursome with another couple and to cheat with other men. No she wants more, a whole lot more. She has fantasies of being used by strangers, getting used by groups of men, but will this be too much? Will it be the end of their marriage or the beginning of something even better?
Product Details

Publisher: Mybard
Publication Date: May 27, 2016
Language: English

This book contains adult content. Reader discretion is advised.


Customer Reviews