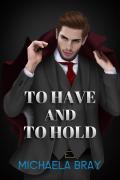 To Have and To Hold
Last Post:
December 25, 2020
She wanted nothing more than to feel wanted again…
Casey Townsend was stuck in a humdrum existence. She had a job, she paid her bills, and a boyfriend. But still, she felt there was something missing. When she caught her boyfriend cheating on her in the same apartment she had been paying for, she calls up her cousin, who takes her on a trip to Sin City itself. She did not, however, count on a permanent solution to all her problems.
He wanted no one but her…
Cool, calm, and collected, Raphael Winters was the subject of every woman's fantasies. He had built his empire from the ground up all so he could lay it at the feet of the one girl he met on one of the lowest points of his life. When he corners her in a hotel in Las Vegas, he makes her an offer — one that required a leap of faith.
If they could have it all for one night, could they have it forever?