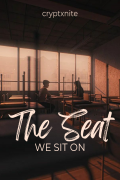 Freesia Mandeville has this habit to write and doodle anywhere in her school. May it be on the walls, chairs, and even on the comfort room's newly painted doors; even on the seat she's sitting on in the classroom. She didn't expect a reply from a person in another section who also used the chair during the afternoon shift of class. Out of boredom, she wrote again hoping that the same thing would happen. It did.
After a series of exchanging not-more-than-ten-words conversation with an unknown student from the second shift, Freesia realized that the words carved on the wooden desk are filling up on it. One glance and it will be appallingly obvious for her to be sent off to the guidance office for vandalizing.
So, as the last month before their junior high school class ends, she begins to write longer sentences on a piece of paper and stick it under the desk. Then, he responds by writing on the back part of the sheet. Freesia is always the one who would rather keep the pieces of paper. She is cool with it.
No meet up. No pressure. No commitment. She would write in the morning for she's in the morning shift. He would respond in the afternoon for his class starts at one o'clock. She would read it the next day. The cycle repeats.
Where would it lead her after a series of exchanging rants and nonsense messages when her longtime crush, Rico, confessed that he also feels the same?
| Chapters | Date |
| --- | --- |
| Ch. 26Cold | Jun 22, 2022 |
| Ch. 25Text | Jun 21, 2022 |
| Ch. 24System | Jun 20, 2022 |
| Ch. 23Forgiven | Jun 19, 2022 |
| Ch. 22You Exist | Jun 18, 2022 |
| Ch. 21To End | Jun 17, 2022 |
| Ch. 20Prom | Jun 16, 2022 |
| Ch. 19Burning Cheeks | Jun 15, 2022 |
| Ch. 18Glimpse of Green | Jun 14, 2022 |
| Ch. 17Manicure | Jun 14, 2022 |
| Ch. 16Keep in Touch | Jun 13, 2022 |
| Ch. 15First Letter | Jun 12, 2022 |
| Ch. 14Confrontation | Jun 11, 2022 |
| Ch. 13Leaving | Jun 10, 2022 |
| Ch. 12ID | Jun 8, 2022 |
| Ch. 11Bicycle Ride | Jun 7, 2022 |
| Ch. 10Stuck | Jun 6, 2022 |
| Ch. 9Tripped | Jun 5, 2022 |
| Ch. 8Graffiti | Jun 5, 2022 |
| Ch. 7Waiting | Jun 5, 2022 |
| Ch. 6Detention | Jun 5, 2022 |
| Ch. 5Escape | Jun 5, 2022 |
| Ch. 4Painting | Jun 5, 2022 |
| Ch. 3Rico | Jun 5, 2022 |
| Ch. 2Reprimanded | Jun 5, 2022 |
| Ch. 1Sleepyhead | Jun 5, 2022 |