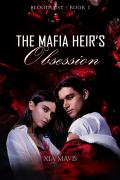 The Mafia Heir's Obsession [Bloodlust Series I]
After moving to Italy to leave her troubled past, Mykaela "Kel" Nielsen pursues a modeling career while living with Miles, her best friend. All seems well and routine until unforeseen circumstances force her back to New York. Will her true feelings for Miles ruin their friendship as she helps him battle his old demons?
Maximiliano "Miles" Falco, an artist and the only heir of an Italian tycoon, must choose between the simple life he loves and being successor to a clan of pureblood vampires contending for power in all of Italy. Can he escape his predetermined fate? A life of deceit, chaos, and deadly encounters with the mafia?
Will Miles and Kel survive the odds that threaten their future together?
P
You need 1 point to view each paid chapter.