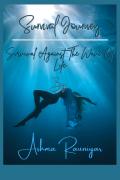 Survival Journey
Last Post:
February 7, 2022
Its not a fairytale love story, it's a story about a girl's strength, courage, struggle, happiness and joy, pain and sorrow, memories, willpower, survival to fight, endearment, abuses she went throughout the life, light and hope she has in her and determination to make her life better.
So join her in the journey of her life how she became the strong alpha woman despite the agony she has suffered through out her childhood and teenage life.
But did she ever found love and happiness in her life after getting betrayed and hurt by her family?
Let's find out shall we?