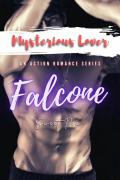 Mysterious Lover #1: Falcone
Last Post:
October 25, 2022
Giabella Gomez has finally met her ideal match. He is attractive and seductive, and what began as an anonymous night of passion has developed into a year and a half-long pleasure fest. Yes, it's a little odd that he only shows up in her bed at night, but Gia is so certain he's the one that she just can't say no. Gia is unaware of how much more Falcone Cabrera knows about her. She is stunning, independent, and cautious in her romantic relationships. However, Falcone must battle his personal demons, which prevent him from connecting with anyone. Falcone's protective nature, however, manifests itself fully when Gia is drawn into Metro Manila's dangerous underworld. The issue is that Gia isn't as sure he's the one anymore after experiencing Falcone's Alpha attitude in the open.
P
You need 1 point to view each paid chapter.
Chapters
Date
Ch. 20chapter 8.2

p

Nov 21, 2022
Ch. 19chapter 8.1

p

Nov 21, 2022
Ch. 18chapter 7.2

p

Nov 21, 2022
Ch. 17chapter 7.1

p

Nov 21, 2022
Ch. 16chapter 6.3

p

Nov 21, 2022
Ch. 15chapter 6.2

p

Nov 21, 2022
Ch. 14chapter 6.1

p

Nov 21, 2022
Ch. 13chapter 5.2

p

Nov 21, 2022
Ch. 12chapter 5.1

p

Nov 21, 2022
Ch. 11chapter 4.5

p

Nov 21, 2022
Ch. 10chapter 4.4

p

Nov 21, 2022
Ch. 9chapter 4.3
Oct 25, 2022
Ch. 8chapter 4.2
Oct 25, 2022
Ch. 7chapter 4.1
Oct 25, 2022
Ch. 6chapter 3.2
Oct 25, 2022
Ch. 5chapter 3.1
Oct 25, 2022
Ch. 4chapter 2.3
Oct 25, 2022
Ch. 3chapter 2.2
Oct 25, 2022
Ch. 2chapter 2.1
Oct 25, 2022
Ch. 1prologue - chapter 1
Oct 25, 2022