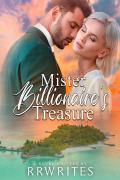 Mister Billionaire's Treasure
Last Post:
September 3, 2021
Ruchee Ramos was a woman who will do everything for her sister. She becomes her mother and father for the past years. She was this type of person who wasn't interested interacting with other people's lives and making friends was out of her vocabulary. A pragmatic one who loves to take risk without resting. For her, a shred of bloodline is the most valuable thing in the world that no one can change.
But her life changed when she got abducted and listed as one of the highest items in the famous underworld auction. Can she save herself from being sold, or will her soul be sold to one of the underworld's greatest billionaire?
P
You need 2 points to view each paid chapter.