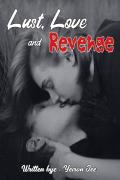 Nothing is more painful than being rejected by her own parents because they trust the person she considered a true friend more than her. Nicole thought her life would improve with Danica's help, but what happened was the opposite. Danica used Nicole to fulfill her ambition — to marry an arrogant and hard-hearted Steven. Nicole could see why a friend had betrayed her because of this man. Aside from being a billionaire, he also possessed the traits that drive women crazy over a man.
After six years, Nicole will return to take back everything from Danica, including the man who said she didn't deserve to be the mother of his child.
P
You need 1 point to view each paid chapter.
Chapters
Date
Ch. 25Awaken desire

p

Jun 7, 2022
Ch. 24Jealous

p

Jun 7, 2022
Ch. 23Protecting his sister

p

Jun 7, 2022
Ch. 22Unexpected visitor

p

Jun 7, 2022
Ch. 21His desire

p

Jun 7, 2022
Ch. 20Heartbeat

p

Jun 7, 2022
Ch. 19Last warning

p

Jun 7, 2022
Ch. 18Lies

p

Jun 7, 2022
Ch. 17Do you know who I am?

p

Jun 7, 2022
Ch. 16Shock and anger

p

Jun 7, 2022
Ch. 15Trembling

p

Jun 7, 2022
Ch. 14I hate her!

p

Jun 7, 2022
Ch. 13Met again

p

Jun 7, 2022
Ch. 12Promise me!

p

Jun 7, 2022
Ch. 11Happiness

p

Jun 7, 2022
Ch. 10Pain

p

Jun 7, 2022
Ch. 9Sorrow

p

Jun 7, 2022
Ch. 8Ask for help

p

Jun 7, 2022
Ch. 7Hatred

p

Jun 7, 2022
Ch. 6Excuses

p

Jun 7, 2022
Ch. 5Kidnap

p

Jun 7, 2022
Ch. 4The agreement

p

Jun 7, 2022
Ch. 3Betrayed

p

Jun 7, 2022
Ch. 2Heat

p

Jun 7, 2022
Ch. 1Event

p

Jun 7, 2022