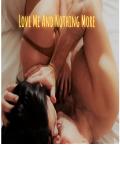 Love Me And Nothing More
Last Post:
January 4, 2022
Julie is recently graduated and looking for a job. God knows she needs one, and urgently. No parents, anymore and one sick brother, Jack, is all she has left. Her stepmother, Hanna, never gave the slightest bit of love affection, or to her sibling. And now, she has everything their father left, saying he gave it all to her and her daughter, Laura.
August Crane, one of the most desirable bachelors in the country, needs a wife. But he has no intention on marry any time soon. The thing is: his father will give the CEO's position to his cousin, if he doesn't have a wife within 3 months. Well, he just needs a contract and someone crazy enough to accept it.
P
You need 1 point to view each paid chapter.
Chapters
Date
Ch. 22Chapter 22

p

Jan 4, 2022
Ch. 21Chapter 22

p

Jan 4, 2022
Ch. 20Chapter 21

p

Jan 4, 2022
Ch. 19Chapter 20

p

Jan 4, 2022
Ch. 18Chapter 19

p

Jan 4, 2022
Ch. 17Chapter 18

p

Jan 4, 2022
Ch. 16Chapter 17

p

Jan 4, 2022
Ch. 15Chapter 16

p

Jan 4, 2022
Ch. 14Chapter 15

p

Jan 4, 2022
Ch. 13Chapter 14

p

Jan 4, 2022
Ch. 12Chapter 12

p

Jan 4, 2022
Ch. 12Chapter 13

p

Jan 4, 2022
Ch. 12Chapter 13

p

Jan 4, 2022
Ch. 11Chapter 11

p

Jan 4, 2022
Ch. 10Chapter 10

p

Jan 4, 2022
Ch. 9Chapte 9

p

Jan 4, 2022
Ch. 8Chapter 8

p

Jan 4, 2022
Ch. 7Chapter 7

p

Jan 4, 2022
Ch. 6Chapter 6

p

Jan 4, 2022
Ch. 5Chapter 5

p

Jan 4, 2022
Ch. 4Chapter 4

p

Jan 4, 2022
Ch. 3Chapter 3

p

Jan 4, 2022
Ch. 2Chapter 2

p

Jan 4, 2022
Ch. 1Chapter 1

p

Jan 4, 2022