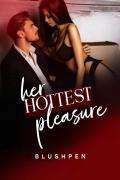 Her Hottest Pleasure
Last Post:
November 21, 2022
"There's no point staying in a forced marriage, so it's better if we just end it. I'm not the one for you, Calvin. The g-girl you love is back. S-she truly owns you and n-not me." — Ivory Saavedra.
"You're right. Jasmine is back. That's why I don't need you in my life. You seem happy with that Enoch, so go ahead. Just wait in your apartment for your things. Leave the house! Mira doesn't need you. We don't need you. Get out of my fucking life!" — Calvin Richwell.
Ivory Saavedra left her foster parent's house and lived in an apartment. All the money she saved she used to buy necessary things, but she also ran out of money. The money came from her parents, who stood up because she couldn't use it. They hold to Ivory learn her lesson.
Ivory tries to live on her own income as a teacher at a private school where she becomes close to her student Mira—the hyper and cute girl she has very fond of.
But Mira's cuteness has a strange sadness that registers in the child's eyes because she misses the care of her own father.
According to this, she no longer has a mother and only her daddy and grandmother stay with her in their house.
Ivory felt pity and sadness for the little girl, and she was annoyed with Mira's father. She thought giving every child's need was pointless because it was neglecting Mira.
And when they first met, it didn't go well. Mira's daddy, Calvin Richwell, is a handsome man, but he's a badass—a famous and successful businessman.
They don't see each other often, but she is annoyed by this and it gets worse because he loses more time with his child and even if she gets sick, he still has no time.
One morning, Ivory just woke up with a visitor in her apartment. It was her parents, and they talked to her again about marrying their business partner and that was none other than Calvin, the father of her student.
Will she agree to marry Calvin to save her parents' business?
What if her heart falls for him even though they don't like each other?
Will they have hope to love each other, especially if Mira's real mother returns?
P
You need 1 point to view each paid chapter.