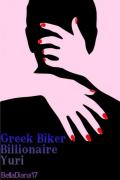 Billionaire Biker: Yuri Daniel
Last Post:
October 3, 2022
His name was Yuri Daniel Athanas.
They called him, "The Golden Boy" of Alcolytes Triad, a college organization during the day and an underground racing club at night.
Like his brothers.. Yuri Daniel was very rich, powerful, hot guy, gorgeous and devastatingly sexy and Intelligent.
Unlike his brothers.. Yuri Daniel did not leave a trail of broken hearts behind him.
Yuri was an angel amidst all the other Greek devils, they said.
I like hearing that about him. It gave me hope that when we do meet again, he would remember his promise, and he would keep it.
He would take one look at me and he wouldn't mind that I wasn't... Okay.
He wouldn't mind, I wasn't... Normal.
If he was everything I prayed he would be, he'd take one look at me and love me.
Like he had promise ...
P
You need 1 point to view each paid chapter.
Chapters
Date
Ch. 22THE FINAL BOOK: EPILOGUE

p

Oct 3, 2022
Ch. 21NINETEEN

p

Oct 3, 2022
Ch. 20EIGHTEEN

p

Oct 3, 2022
Ch. 19SEVENTEEN

p

Oct 3, 2022
Ch. 18SIXTEEN

p

Oct 3, 2022
Ch. 17FIFTEEN

p

Oct 3, 2022
Ch. 16FOURTEEN

p

Oct 3, 2022
Ch. 15THIRTEEN

p

Oct 3, 2022
Ch. 14TWELVE

p

Oct 3, 2022
Ch. 13ELEVEN

p

Oct 3, 2022
Ch. 12TEN

p

Oct 3, 2022
Ch. 11NINE

p

Oct 3, 2022
Ch. 10EIGHT

p

Oct 3, 2022
Ch. 9SEVEN

p

Oct 3, 2022
Ch. 8SIX

p

Oct 3, 2022
Ch. 7FIVE

p

Oct 3, 2022
Ch. 6FOUR

p

Oct 3, 2022
Ch. 5THREE

p

Oct 3, 2022
Ch. 4TWO

p

Oct 3, 2022
Ch. 3ONE

p

Oct 3, 2022
Ch. 2PROLOGUE

p

Oct 3, 2022
Ch. 1THE BEGINNING

p

Oct 3, 2022