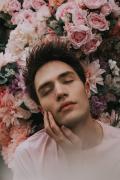 Belle woke up to the smell of bacon and eggs. A smile crept onto her face as she remembers that today is her sixteenth birthday. She stretched her tall body and got out of bed. Belle looked at herself in the small mirror of their one-bedroom apartment's small bathroom with just a shower, basin, and toilet. The bathroom did not even have a window. Belle slept in the bedroom and her father, Maurice on the couch in the living room. Belle did not like the fact that she must go to school on her birthday but at least this is the final year. Belle knew that she will not be staying behind to attend the local university, she did not even apply. She had one thing on her mind and that was to get out of this town.
Belle is a loner and along with the kids from school, she considered herself ugly. Belle could never understand how she is always the only one with pimples. Her hair always hangs like bangs covering her face, it was the only way to hide her pimples. Belle decided that today she will skip school, she just hopes that she does not get caught.
"Morning dad," Belle greets her father as she takes a piece of bacon and pops it into her mouth.
"Happy birthday darling daughter," Maurice says dishing some eggs into her plate. Normally breakfast would be a slice of bread with margarine thinly spread. Maurice felt guilty for not being able to provide better for his daughter, he had only himself to blame.
His wife left the day after Belle was born, she just disappeared, never to be seen again, her sports car abandoned near the woods. Maurice remembers when he was just a lad himself. No one noticed his wife when they were young, but soon, she grew into a beautiful woman, once the teen years were over. Back then their town was but a little French village compared to today; with all its modern buildings. To take care of Belle Maurice had to put aside his love for inventing and sold everything bit by bit as he needed to take care of his daughter. 'How much has changed in a short 18 years,' Maurice thinks to himself, looking at his daughter.
Belle always felt guilty for the sacrifices her father had to make for her. The worst was when he had to sell their house for next to nothing to the LeGumes ten years ago. To this day, Belle could not stand them, especially their son, Gaston, the talk of the town, Mr. Popularity, the center of attention always adding to the list of horrible nicknames for Belle.
P
You need 1 point to view each paid chapter.
Chapters
Date
Ch. 26Chapter 26 THE END

p

Jul 31, 2022
Ch. 25Chapter 25

p

Jul 31, 2022
Ch. 24Chapter 24

p

Jul 31, 2022
Ch. 23Chapter 23

p

Jul 31, 2022
Ch. 22Chapter 22

p

Jul 31, 2022
Ch. 21Chapter 21

p

Jul 31, 2022
Ch. 20Chapter 20

p

Jul 31, 2022
Ch. 19Chapter 19

p

Jul 31, 2022
Ch. 18Chapter 18

p

Jul 31, 2022
Ch. 17Chapter 17

p

Jul 31, 2022
Ch. 16Chapter 16

p

Jul 31, 2022
Ch. 15Chapter 15

p

Jul 31, 2022
Ch. 14Chapter 14

p

Jul 31, 2022
Ch. 13Chapter 13

p

Jul 26, 2022
Ch. 12Chapter 12

p

Jul 26, 2022
Ch. 11Chapter 11

p

Jul 26, 2022
Ch. 10Chapter 10

p

Jul 26, 2022
Ch. 9Chapter 9

p

Jul 26, 2022
Ch. 8Chapter 8

p

Jul 26, 2022
Ch. 7Chapter 7

p

Jul 26, 2022
Ch. 6Chapter 6

p

Jul 26, 2022
Ch. 5Chapter 5
Jun 28, 2022
Ch. 4Chapter 4
May 31, 2022
Ch. 3Chapter 3
May 31, 2022
Ch. 2Chapter 2
May 31, 2022
Ch. 1Chapter 1
May 31, 2022