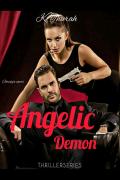 Synopsis
Eric Wenner, a mafia lord, most wanted criminal, son of the druggie, and popular loan shark, a real definition of hot, was caught in the act. There are four witnesses against him and his father willing to testify in the court. The only way out is to eliminate them. He succeeded in killing the first witness. The plan was to kill the other three but on getting they've been killed. The killer left a sign which his worker playfully left on the first victim.
All finger points at Amelia, Eric's assistant, his newfound lover. Things got tougher when his assistant died after calling her twin sister and giving her the wrong information about what might probably kill her.
Fiona sets to avenge her sister's death when love sets in.
The question is who really killed the witnesses?
While trying to find the mystery of their deaths, they unraveled a lots of secrets.
Who's behind their deaths and why?
Will Fiona avenge her sister's death ?
Join us as we solve this interesting mystery.
With everyone having the mafia code in mind, kill or get killed.
A sneak preview
"Can I cut out one ear"?.
"Please don't, I don't know anything, I swear".
"Maybe I should cut one ear then". She trailed the knife along his ear as the blade cut deep into his skin.
"Are you willing to talk or not"?.
He nods his blood filled face. The bleeding from his stomach has stopped a little. She needs to keep him alive till he talks then she kills him.
"I'll tell you what I know, I used to work as Eric's personal assistant. Few years back I found out about the hidden warehouse and I decided to run for my life. I'm done killing people. That's all I know, I swear".
She scoffed. "Seems you forget the code". "OMERTA". She screamed. "How dare you?".
More blood flow as she thrusts the knife further making it go deeper and cutting anything it comes across. The victim groaned and shifted a bit making the knife thrust further.
"A last conversation with my daughter?"
"Oh well, you both will conversate in heaven".
"You will die soon anyway".
"Oh wait, hold on, I guess I'm missing something".
"Whatever ".
She catwalked out of the room, heading to the kitchen. The room bulb made everything in the room visible.
The victim was lying face up. Half of his face was covered with blood. His own mother wouldn't have known him. There was blood around his head in a pool on the pillow. The huge double bed was stripped of linen. The bedsheets were not spared. Splatters of blood were visible on piles of cloths next to the bed. There was one visible color which is blue. The rest has been covered by this tee and blood.
Much of a single father room.
She entered the kitchen. Well, nothing surprising. More of what she expected. She hummed a song to the knife set which shows how excited she is.
It's her first mission anyways.
Placing the knife on a gas cooker, she couldn't stop humming. The knife changed to a burning red color. She picked it with the white turn red handkerchief she was holding. She gat to be careful. She went back to the room. The victim was obviously dead and he was no longer murmuring curses or the F*** word.
She turned him making him lie face down and the knife having it's way finally. She took the hot knife and drew a cross sign on his back. Playfully.
" Your heaven pass" a soft laugh escaped her mouth.
P
You need 1 point to view each paid chapter.
Chapters
Date
Ch. 16Chapter 16

p

Jun 26, 2022
Ch. 15Chapter 15

p

Jun 26, 2022
Ch. 14Chapter 14

p

Jun 26, 2022
Ch. 13Chapter 13

p

Jun 26, 2022
Ch. 12Chapter 12

p

Jun 26, 2022
Ch. 11Chapter 11

p

Jun 26, 2022
Ch. 10Chapter 10

p

Jun 26, 2022
Ch. 99

p

Jun 3, 2022
Ch. 88

p

Jun 3, 2022
Ch. 77

p

Jun 3, 2022
Ch. 6Chapter 6

p

Jun 3, 2022
Ch. 5Fiona

p

Jun 3, 2022
Ch. 4The spy

p

Jun 3, 2022
Ch. 3The confession

p

Jun 3, 2022
Ch. 2Mia Werner

p

Jun 3, 2022
Ch. 1Her death

p

Jun 3, 2022