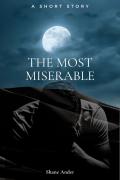 Product Description
An intense story that looks at the life of a Muslim extremist and the explicit life that he lives. Explore the mind of a man, driven to extremism, due to the physical and psychological abuse he endured as a child. An innocent child he began; a trained killer he became. Take a dive into the mind of a cold and calculated killer and the extremist views he holds close to his heart.
Product Details

Publisher: Mybard
Publication Date: January 3, 2022
ISBN: 978-1-68302-019-6
Language: English

This book contains adult content. Reader discretion is advised.


Customer Reviews