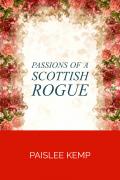 Passions of a Scottish Rogue
Product Description
A Celtic Love Story about a Woman that finds herself drawn to a Scottish Rogue. Will she follow her heart or follow her father? She will not follow her tyrant of a Father out of love. But rather of fear for the wrath he could bestow upon the man she loves. Especially since he is a known member of a rival clan of her fathers.
The young Una Mullen finds that her evil father is marrying her off to a man that she does not love all for the sake of financial gain to her father. He cares not what she wants or that she has already pledged her love to another—Callum McNeil of Dumbartonshire. What will become of this poor maiden who feels that she is trapped under her father's steel grip. She seeks the help of a house maid and dear friend Fenella—who agrees to find a way to help Una escape her father's evil clutches. They think all is well until Una and her mother are overheard discussing Una's plan to runaway by the house cook Vera Maggs. Vera Maggs is having a long ongoing affair with Fergus Mullen or does sexual favors for him hoping to get some extra coins here and there out of him. She decides to approach Fergus with the plan that she has overheard in hopes he will pay her for this information. Is Una to be doomed to the same fate as her mother—made to marry a man that she does not love? The answer to this question will be revealed within this story that has is filled with love, hate, hurt, passion and even murder!
Product Details

Publisher: Mybard
Publication Date: May 3, 2019
Language: English

This book contains adult content. Reader discretion is advised.


Customer Reviews