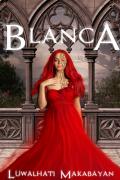 Product Description
"Even though I'm blind, it's clear to me that you're the one for whom my heart beats..."
*****
Blanca has had a big rash on the left half of her face since she was born due to a curse from the past. Her classmates, headed by her step sister Margaret, tempted her frequently. Her life had been a living hell until she met Adam, a blind guy who dared to love her completely. When Adam had eye surgery and met Blanca, everything changed. Blanca went away, knowing that the young guy she adored would be disappointed. He will be able to get revenge on those who have trampled on her reputation with the support of his best friend Ramil.
Product Details

Publisher: Mybard
Publication Date: May 2, 2022
Language: English

This book contains adult content. Reader discretion is advised.


Customer Reviews