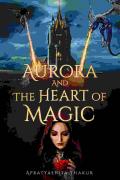 Aurora and the Heart of Magic
Product Description
Aurora's world turns upside down when she gets stuck in the midst of an unwanted pregnancy and the quest for 'The Heart of Magic.'
Dragons, werewolves and witches; all are in a bid to trap, lure and use Aurora to obtain the stone.
How will Aurora protect herself and her baby from the power-hungry creatures?
Whom will she choose to side with: the powerful dragons, ferocious werewolves, cunning witches or will she choose to be on her own?
Product Details

Publisher: Mybard
Publication Date: August 26, 2021
ISBN: 978-1-68302-003-5
Language: English


Customer Reviews