Wheel of Time Premium Boxed Set II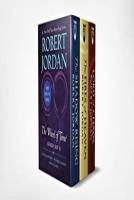 Wheel of Time Premium Boxed Set II
The Wheel of Time #4-6

Description
Boxed Set contains Mass Market Paperback editions of The Shadow Rising, The Fires of Heaven, and Lord of Chaos, books four through six of Robert Jordan's The Wheel of Time series.
The Shadow Rising
The seals of Shayol Ghul are weak now, and the Dark One reaches out. The Shadow is rising to cover humankind.In Tar Valon, Min sees portents of hideous doom. Will the White Tower itself be broken?In the Two Rivers, the Whitecloaks ride in pursuit of a man with golden eyes, and in pursuit of the Dragon Reborn.In Cantorin, among the Sea Folk, High Lady Suroth plans the return of the Seanchan armies to the mainland.In the Stone of Tear, the Lord Dragon considers his next move. It will be something no one expects, not the Black Ajah, not Tairen nobles, not Aes Sedai, not Egwene or Elayne or Nynaeve.Against the Shadow rising stands the Dragon Reborn.....
The Fires of Heaven
In this sequel to the phenomenal New York Times bestseller The Shadow Rising, Robert Jordan again plunges us into his extraordinarily rich, totally unforgettable world:...Into the forbidden city of Rhuidean, where Rand al'Thor, now the Dragon Reborn, must conceal his present endeavor from all about him, even Egwene and Moiraine....Into the Amyrlin's study in the White Tower, where the Amyrlin, Elaida do Avriny a'Roihan, is weaving new plans....Into the luxurious hidden chamber where the Forsaken Rahvin is meeting with three of his fellows to ensure their ultimate victory over the Dragon....Into the Queen's court in Caemlyn, where Morgase is curiously in thrall to the handsome Lord Gaebril.For once the dragon walks the land, the fires of heaven fall where they will, until all men's lives are ablaze.And in Shayol Ghul, the Dark One stirs...
Lord of Chaos
In this sequel to the phenomenal New York Times bestseller The Fires of Heaven, we plunge again into Robert Jordan's extraordinarily rich, totally unforgettable world:On the slopes of Shayol Ghul, the Myrddraal swords are forged, and the sky is not the sky of this world;In Salidar the White Tower in exile prepares an embassy to Caemlyn, where Rand Al'Thor, the Dragon Reborn, holds the throne--and where an unexpected visitor may change the world....In Emond's Field, Perrin Goldeneyes, Lord of the Two Rivers, feels the pull of ta'veren to ta'veren and prepares to march....Morgase of Caemlyn finds a most unexpected, and quite unwelcome, ally....And south lies Illian, where Sammael holds sway....
Details

Publisher: Tor Fantasy
Publication Date: December 31, 2019
Formats: Print