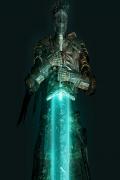 Product Description
Balvary doesn't realize that Andura is one of the children he saved 6 years ago. Everything was revealed when the war was over, Andura, who still held a grudge in the past, managed to behead a general of the enemy troops, it was his first achievement in beheading a leader. His name echoed in all ears until Balvary came to him and awarded him the title of Centurion.
Product Details

Publisher: Mybard
Publication Date: January 11, 2022
Language: English

This book contains adult content. Reader discretion is advised.


Customer Reviews