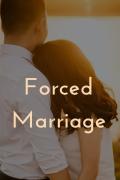 Product Description
Man: " This is your last chance, refuse to marry me otherwise I will make your life hell ".
Woman: " I am ready to bear anything, but I can't refuse to marry you ".
He loves my sister, he is going to Marry my sister but
She is going to be my brother bride, but
Fate changed everything, and they tied with each other in an eternal bond. Will the love formed in this forced marriage or this marriage will remain forced marriage the whole life.
Product Details

Publisher: Mybard
Publication Date: November 16, 2021
Language: English

This book contains adult content. Reader discretion is advised.


Customer Reviews